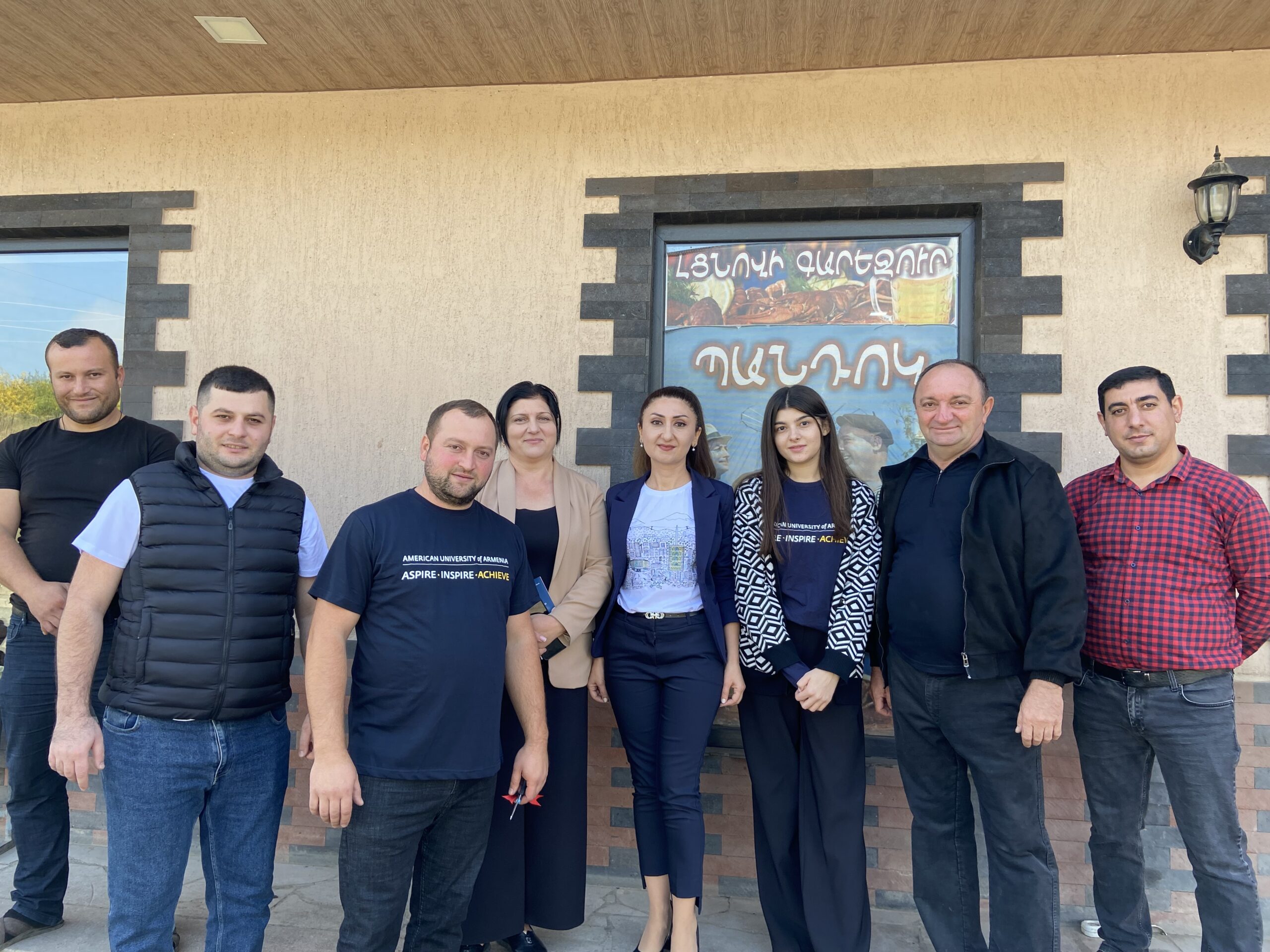 AUA TRDP Supports Opening of Restaurant in Artsakh
The American University of Armenia (AUA) is delighted to announce the successful launch of a new business in Artsakh with the sustained support of the Turpanjian Rural Development Program (TRDP).
October 19 marked the official opening of TRDP beneficiary Gor Hayrapetyan's new restaurant in the town of Martuni in Artsakh. Azat Artsakh news agency fully covered the event in an article published in Armenian and Russian drawing public attention to the fundamental goals of the program.
Hayrapetyan had applied to TRDP in Stepanakert with the idea of reconstructing the building he owned, adding new pavilions and modern features. Thanks to the TRDP-supported loan, he was able to expand his business, building new pavilions under the brand name Pandok. Five new jobs were created as a result.
"I am grateful to the program which equipped me with the necessary knowledge and motivated me to remain and work in Artsakh despite the prevailing uncertainty," said Hayrapetyan. "By creating jobs in the community, TRDP made it possible for five more families to stay and make a living in our homeland. I intend to reapply to the program in the future with a proposal to establish a rest area next to my restaurant."
Hayrapetyan's restaurant business is considered one of the best in the Martuni region. It is located in a high-traffic area and well equipped. The sanitary-hygienic requirements are strictly maintained, rendering the business more competitive and attractive.
The TRDP-supported loan of 3,000,000 AMD was used for construction works and acquisition of furniture and equipment. As a socially responsible entrepreneur, Hayrapetyan strictly adheres to the requirements and guidelines of the program.
The AUA Turpanjian Rural Development Program provides education, funding, and consultations to the existing and startup businesses in the rural communities of Shirak, Tavush and Vayots Dzor provinces of Armenia, as well as in Artsakh and Javakhk (Georgia). The list of eligible communities and eligibility criteria can be found here. The program continues to accept applications for the next round of training.