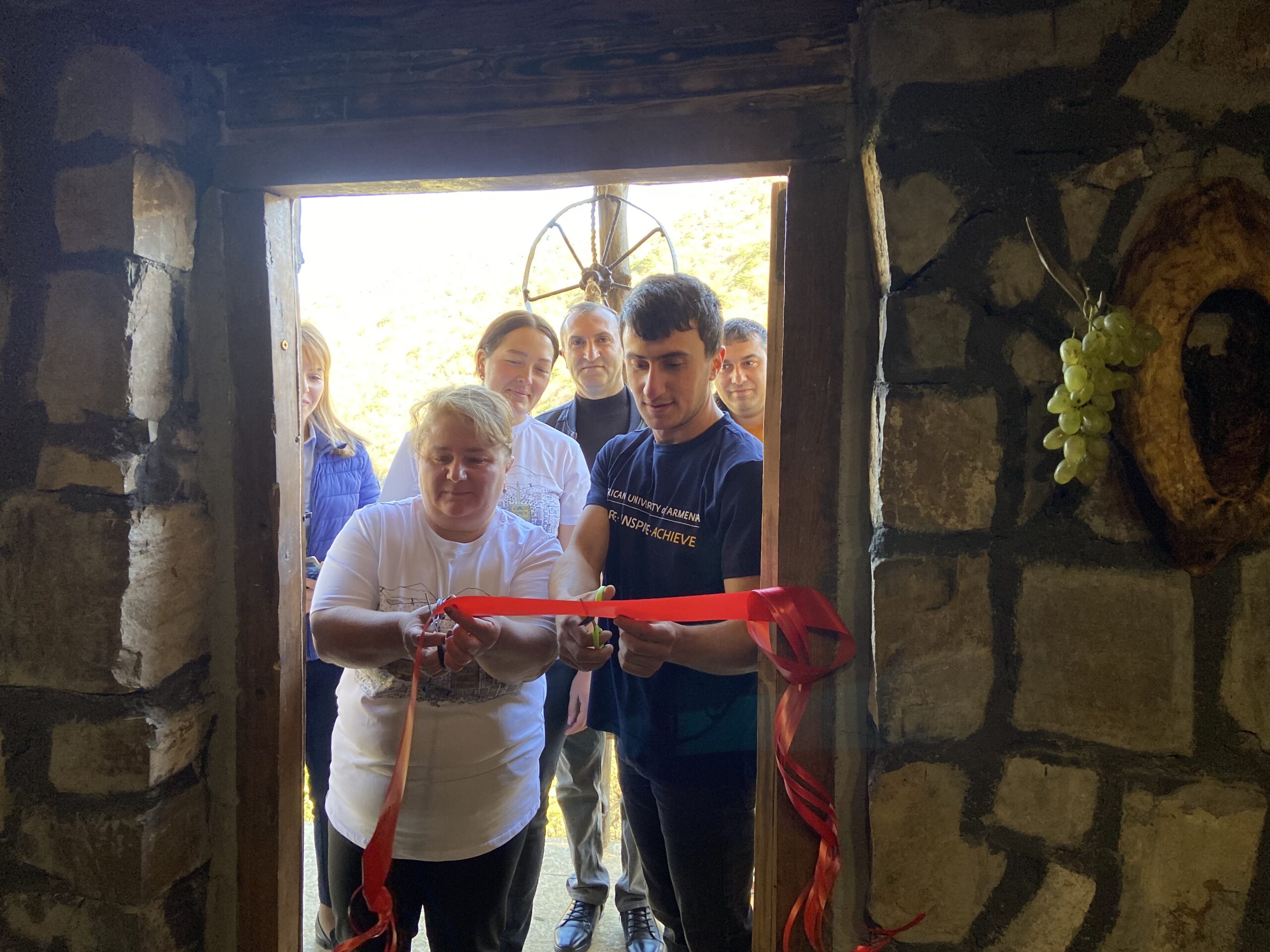 AUA TRDP Supports Opening of B&B in Tavush
GOSH, Armenia — The American University of Armenia (AUA) is delighted to announce the successful launch of a new business in the Tavush region of Armenia with the sustained support of the Turpanjian Rural Development Program (TRDP).
Held on October 26, the official opening of Zhirayr Babinyan's bed and breakfast (B&B) in Gosh village, Tavush region, was an exciting event that assembled the entrepreneur's family, relatives, friends, and fellow villagers.
Babinyan was a hardworking and consistently punctual young trainee in the program. He aspired to establish a new and promising business on land he owned in Gosh. At the conclusion of the program, Babinyan successfully developed a business plan drawing on many of the concepts he had learned in the training to create his B&B with the brand name "SHALE HOUSE."
The "SHALE HOUSE" B&B is located in the forest of Gosh, in the lush, green mountain lap. According to Babinyan, his idea was to design a resting place in a quaint and peaceful environment, cut off from the outside world, a small, cozy two-story stone house with a fireplace inside and all the necessary comforts. The house catches the eye with its engaging and unique style: wooden floors, a wooden chair next to the fireplace, and an internal staircase to the bedroom. The B&B's special feature is its furniture, all of which has been lovingly handmade by Babinyan himself. Inside the harmonious atmosphere, Armenian culture and spirit prevail.
"SHALE HOUSE" is designed for small families of maximum four people. According to Babinyan, the B&B will serve homemade food grown by local villagers.
Babinyan values the role and support of TRDP in establishing his business. According to him, the knowledge provided by the training course — correct planning, projections, and calculations — allowed him to implement his plan and create two new jobs in Gosh. As a socially responsible entrepreneur, he strictly adheres to the requirements and guidelines of the program.
The AUA Turpanjian Rural Development Program provides education, funding, and consultations to the existing and startup businesses in the rural communities of Shirak, Tavush and Vayots Dzor provinces of Armenia, as well as in Artsakh and Javakhk (Georgia). The list of eligible communities and eligibility criteria can be found here. The program continues to accept applications for the next round of training.