Mission
The American University of Armenia's Turpanjian Rural Development Program (TRDP) provides education and economic opportunities to people in rural areas of the Republic of Armenia, the Artsakh Republic and Javakhk to encourage rural development, create jobs, and improve communities. With the support of TRDP, rural residents have set up a variety of businesses, such as auto repair shops, bakeries, retail stores, and Internet clubs. The program has made a positive impact not only on economic development but also on the outlook of rural residents.
History
In 2006, Gerald Turpanjian, long-time benefactor and international philanthropist, donated $5 million to the American University of Armenia (AUA) for encouraging economic development in rural areas. As a result, the Turpanjian Rural Development Program was created to provide education and assistance to rural entrepreneurs.
An executive committee was formed from AUA faculty and staff, chaired by former AUA President Dr. Haroutune Armenian. The committee gradually developed the current approach and process of offering training, access to financial assistance, and consultation to rural entrepreneurs. Local offices were established, each with a dedicated program leader, support staff, and trainers to meet regional needs. The first regional office opened in Gyumri in the Shirak marz in 2006, followed by offices in Stepanakert in the Nagorno Karabakh Republic and Ijevan in the Tavush marz in 2007. In June 2010 local office was also established in Javakhk region, Georgia. Moreover, in 2015 TRDP opened its office in Yeghegnadzor, Vayots Dzor region. TRDP has also awarded grants in Nagorno Karabakh for establishing three bed-and-breakfasts to promote tourism.
Program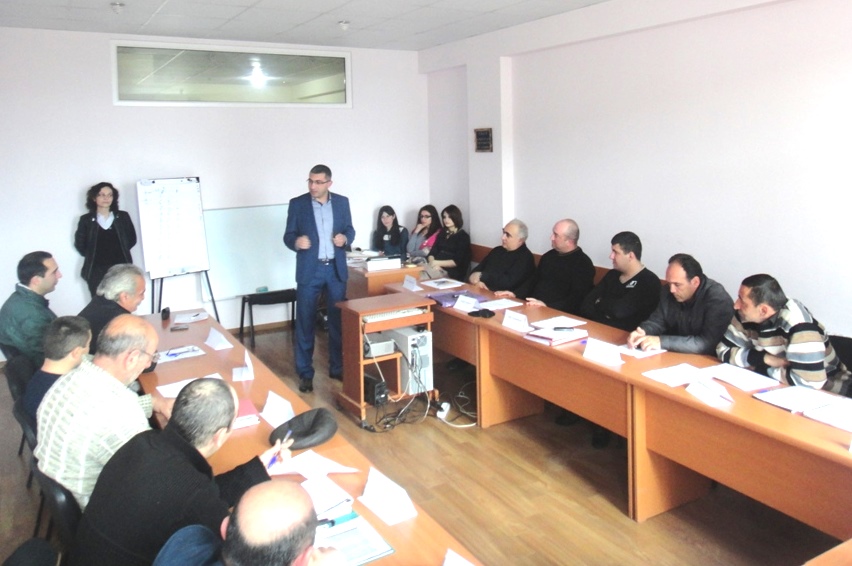 As a rural development program implemented by a university, AUA-TRDP is unique in Armenia. The program operates by offering education, consultation, and funding to beneficiaries.
The AUA Extension Program has adapted existing materials and curriculum with the guidance of the AUA School of Business and Management to create a training course that covers the basics of marketing and finance and prepares beneficiaries to write their own business plans. The end product of the trainings are the business plans prepared by the beneficiaries. These training sessions unite beneficiaries with peers sharing similar experiences and goals, serving as important networking opportunities and fostering a sense of community.
The presence of AUA-TRDP and the success of the program's businesses have generated great optimism among rural residents.
In addition to providing a practical business education, the program offers financial assistance by helping entrepreneurs obtain bank loans. For rural residents, receiving loans is especially difficult, and interest rates can be impossibly high, ranging from 20 to 40 percent. With AUA-TRDP acting as a guarantor, beneficiaries are able to receive loans at an interest rate of 5 percent from the program's partner banks. After beneficiaries have their loans approved, AUA-TRDP continues to support them with monitoring and mentoring. The regional offices regularly observe the progress of the businesses and provide consultation.
Our Team
Executive Committee
Dr. Haroutune K. Armenian
President Emeritus, American University of Armenia
Chair, Turpanjian Rural Development Program
Mr. Gevorg Goyunyan
Vice President of Finance/CFO, American University of Armenia
Staff
Director of Field Operations: Mr. Zorair Kirakosian

Shirak Region
Program Leader: Mr. Arthur Lalayan
Program Assistant: Mrs. Kristina Serobyan

Tavush Region
Program Leader: Mr. Sos Vardumyan

Program Assistant: Ms. Lia Amiraghyan
Vayots Dzor Region
Narine Babayan: Program Leader
Program Assistant: Ms. Ani Babayan
Artsakh Republic
Program Manager: Ms. Lilit Ghazaryan


Program Assistant: Maria Minasyan

Javakhk, Republic of Georgia
Program Leader: Ms. Narine Ginosian
Program Coordinator: Mr. Hmayak Grigorian
Consultants
Dr. Artak Hambaryan
Assistant Professor, College of Engineering, American University of Armenia