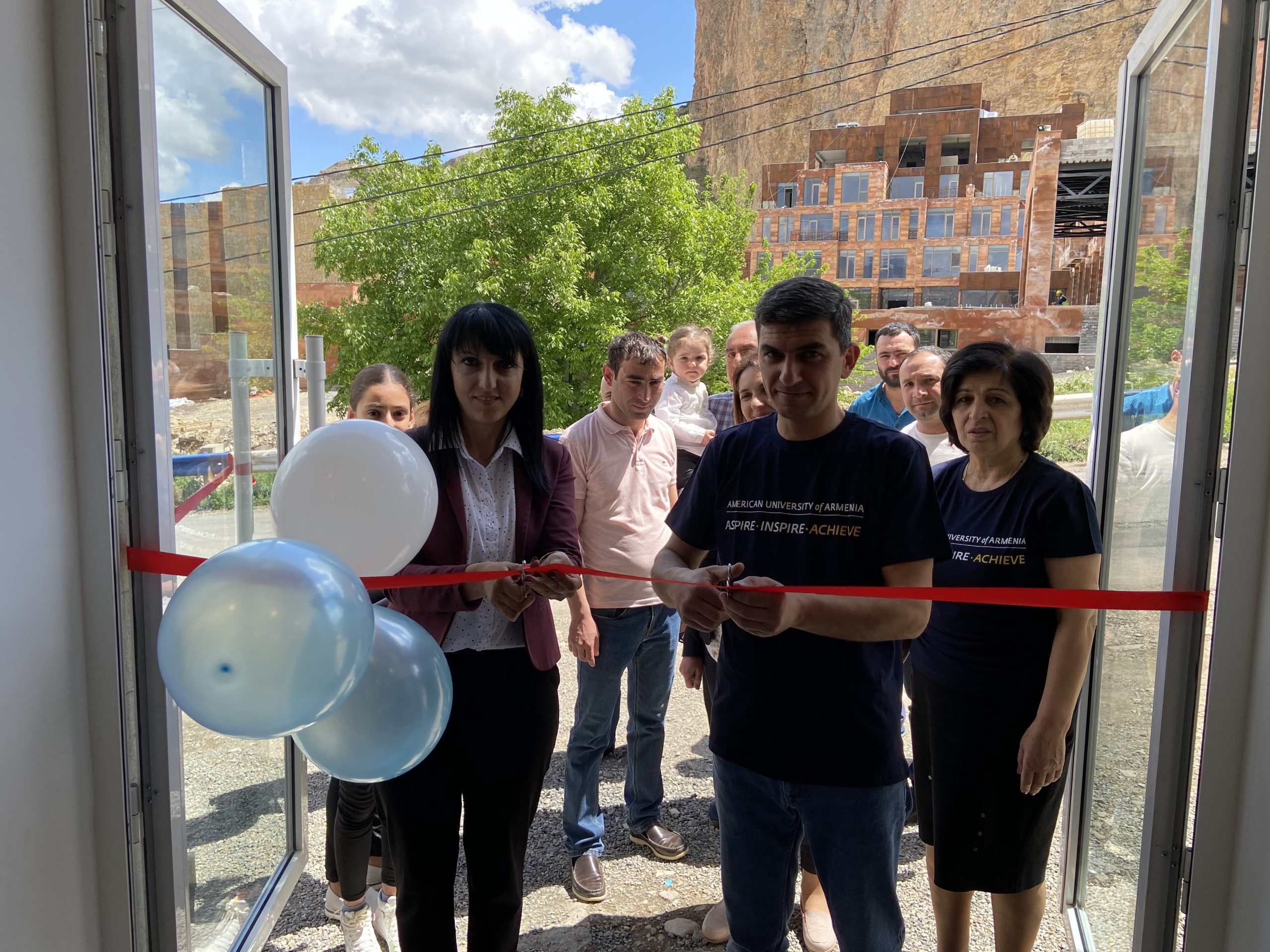 TRDP Supports Opening of New Business in Vayots Dzor
ARENI, Armenia — The American University of Armenia (AUA) is happy to share that a new business in the Vayots Dzor region of Armenia has commenced operations with the sustained support of the Turpanjian Rural Development Program (TRDP).
Last week marked the official opening of TRDP beneficiary Hayk Harutyunyan's business in the Areni community. The entrepreneur established a store retailing construction materials under the brand name Shen Areni (Շեն Արենի), creating one additional job in the community. Areni is an enlarged community comprising six villages, and this new store is centrally accessible to all.
With the idea of establishing a retail store for construction materials, Harutyunyan applied to TRDP and was accepted to enroll in the entrepreneurship training program, where he gained the appropriate knowledge and skills in marketing, financial management, operational strategy, and general business acumen. Upon completing the training, his business plan was approved for a loan to realize the idea.
Today, his construction materials store is working at full capacity. Sales are consistently increasing, and Harutyunyan is gradually expanding the inventory of construction materials through appropriate networking with construction companies and suppliers.
Harutyunyan is grateful for the strides he made through TRDP and looks forward to a continued cooperation, confident that he will once again turn to the program for support of his new business ideas. His mother, Anna Ghazaryan, has also been an earlier TRDP beneficiary who established a B&B in Areni and has consistently developed her business since.
Harutyunyan acknowledges the invaluable support he has received from TRDP in his endeavors, stating, "I am so grateful to the TRDP. I would not have been able to realize my business idea and establish it in my home village without the strong support and assistance of the program."
The AUA Turpanjian Rural Development Program provides education, funding, and consultations to the existing and startup businesses in the rural communities of Shirak, Tavush, Vayots Dzor, Gegharkunik, Lori, and Ararat provinces of Armenia, as well as in Artsakh and Javakhk (Georgia). The list of eligible communities and eligibility criteria can be found here. The program continues to accept applications for the next round of training.